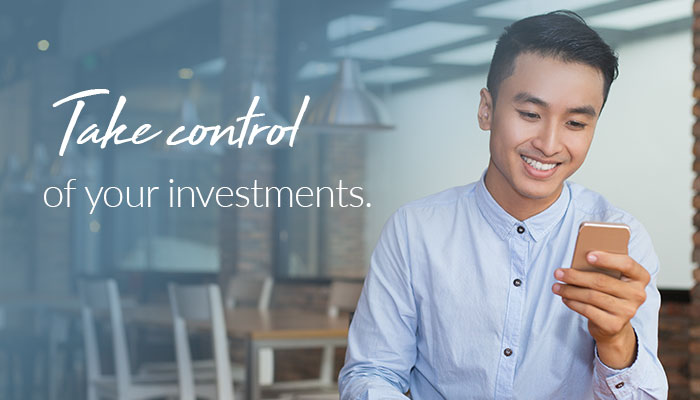 Whether it's the Dow Jones, Wall Street, NYSE, or the share market in Malaysia, RHB brings the world of online trade right to your fingertips!
Through the RHB Share Trading online stock trading system, everyone can be a hands-on trader, and invest locally or globally. Make sound decisions with the help of in-depth analysis and research reports.

As long as you have access to a PC, laptop and even a smartphone, you can stay in control of your investments with RHB Share Trading.
RHB Share Trading takes online trading to the next level




RHB Share Trading takes online trading to the next level with winning features. Discover how unique features like Programme Trading, Stop Loss, round-the-clock support, loyalty programme and more will help enrich your online trading experience.

View the User Guides
Program Trading




'Buy low sell high' is the mantra of every trader – but that's easier said than done. Traders are easily affected emotionally, i.e. when prices are going up, traders may become irrational hoping the price will continue climbing. When prices fall, fear may set in triggering panic selling. Stay clear of the emotion factor; use Program Trading – set Stop Loss and Conditional Order for unaffected, precise decisions.

Read More
Share Margin Financing




Multiply your investment power with Share Margin Financing facility. As long as qualifying criteria are met, individual as well as corporate applicants will be accepted. Enhance your assets holding capability. Take advantage of a flexible repayment schedule and other benefits.

Read More
Global Trading




Beyond Bursa Malaysia, RHB Share Trading offers top global markets for your online investment needs: SGX, NASDAQ, AMEX and NYSE at no extra cost to you on one convenient platform.

Read More
Mobile Trading




There are free downloadable mobile trading apps for Android- and iOS-based phones. This makes it easy for anyone equipped with a smartphone or tablet to trade anytime, anywhere. More importantly, to be in touch with the latest equities market trend and order status.

Learn more about mobile trading

ANDROID iOS
Professional customer support




Our Call Centre offers professional customer support during trading hours for all markets: KLSE, SGX, NASDAQ, AMEX and NYSE.

We are open from Monday to Friday, 8:30am to 5:30pm, with the exception of certain market holidays. Contact us at 03 - 2113 8118